9th March, Week 6, Term 1
From Our Principal - Mr Brendan Moloney
Dear Families,
Next week I will undertake my contract appraisal which takes place in the fifth year of a principal ship, yes this is now my sixth year in Coraki!
You would have received a link to complete a survey which helps provide feedback to the appraisal panel and ultimately to me. The survey is also completed by school staff. Monday will see the opportunity for staff and parents to meet with the panel and provide feedback directly to it. Those wishing to meet with the panel will have been able to indicate this as part of the survey. Thank you to all those who have taken the time to provide feedback for this appraisal, I look forward to receiving the feedback as part of my appraisal report.
School Review and Improvement
Following on from our school review last year we have been busy analysing the data and feedback to identify our priorities for the next three years and then our goals for 2023. These plans are now ready for approval from our support team from the office. I have had added below our goals for 2023 for your reference and would like to ourline our focus on school attendance which is such an important aspect of school life.
These goals have been identified based on the analysis of our school review data and as a school team. More information about these goals and how we look to achieve them will be provided later.
In regard to our attendance goal (Pastroral Care), this has been selected as our data shows attendance rates that are below the standard, this is not for all children but looking at our data from a whole school perspective. The following shows our percentage attendance data for 2021 and 2022, we also understand that these years have seen exceptional circumstances that will have impacted the data.
2021 average attendance 82.5% 2022 average attendance 74.08%
As you are aware it is a requirement for school aged children to attend school on a regular basis. The Catholic Schools Office Policy on attendance, defines attendance concern as follows:
1.1 Attendance concern means the following:
Less than 95% attendance or;
3 consecutive days of unapproved leave; or
Any 5 days of unapproved leave or any other pattern observed (such as regular Mondays and Fridays away or habitual partial non-attendance).
Our aim is to work with you to improve our attendance data and ensure that our students have regular school attendance to support their continued learning. We look forward to working with you as we focus on improving our attendance data.
School Mural
Our school mural is progressing nicely, I am sure that you have all noticed how fantastic it is looking. It is almost time for our hand prints to be added as the next step in its completion. Keep an eye on its progress. We thank Aunty Vanessa for her vision and creativity in designing and completing this artwork.
God Bless,
Brendan Moloney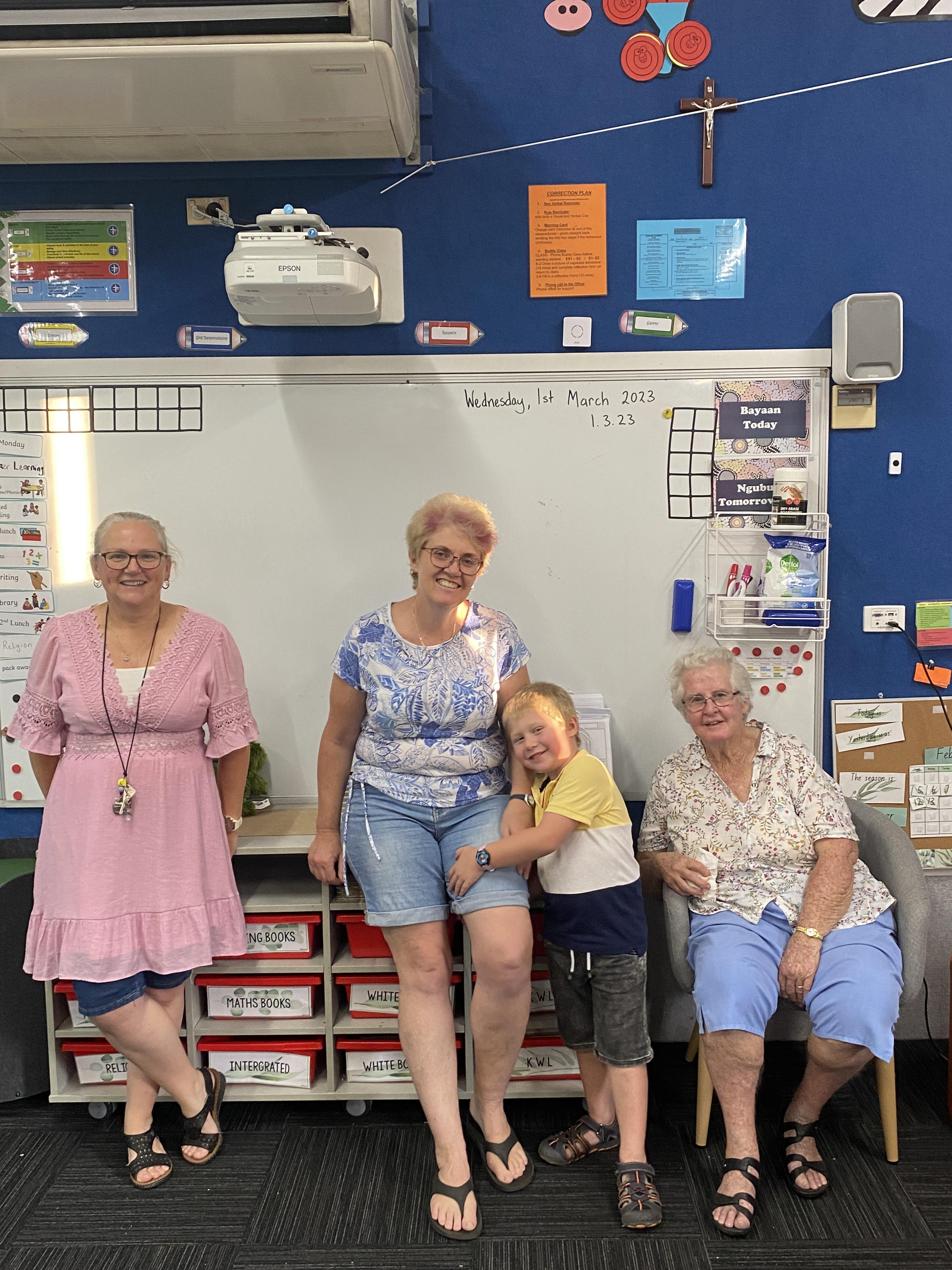 Welcome BBQ 2023
Thank you to all who were able to attend our 2023 Welcome BBQ.
Student Awards Week 5
Kinder - Kelsi Rayner, sharing her mathematical learning during Walker Learning Tasks.
Stage 1 - Casey Magee, trying your hardest.
Stage 1 - Indie Verrall, being a great helper.
Stage 2-Saoirse Magee, pushing herself to grow in all areas of the curriculum.
Stage 2- Tahlia Bryant, great growth and attitude to Mathematics Learning.
Stage 3- Joeisha Williams, a positive attitude to all classroom activities.
Stage 3- Jaya Bryant, great work in maths (multiplication) and art.
Principals Award- Macen Hickling, wonderful learning choices.
Mission News
Jesus reveals himself to the Samaritan woman at the well.
This Sunday and the next two Sundays, we break from reading the Gospel of Matthew to read from John's Gospel. The Gospel of John is the only Gospel not assigned to a particular liturgical year. Instead, readings from John's Gospel are interspersed throughout our three-year liturgical cycle.
https://www.loyolapress.com/catholic-resources/liturgical-year/sunday-connection/third-sunday-of-lent-cycle-a-sunday-connection/
Reconciliation
Last Friday Saoirse, Philippa and Paige completed their next Sacrament of Initiation on their journey towards receiving the Eucharist.
They participated in the Sacrament of Reconciliation with grace and reverence and we congratulate them on this next phase in their journey.
Incitare
Incitāre means to stir up, incite, urge, spur, egg on. This one day retreat using various group processes and student led discussion was attended this year by Ellie and Ruby. They experienced faith nurturing activities and skilling for being faith leaders to bring back to share with the rest of the students at St Joseph's.
Ellie and I were picked to go to Incitare. Mrs Dawson took Ellie and I to Tullera hall. We got settled in and the lady in charge introduced herself and her story, and then we got into little groups and introduced ourselves. After we got a journal and we wrote what are some christian actions that we can do in life . Then we played a game, we had to stand up and walk around the hall. It was a bit like scissor paper rock but life sized. Then it was the 1st break. After the break we went inside and watched a video and found that the theme of the day was courage. We did more activities and another game and then we went out for, second break. After the break we prepared a liturgy and shared that as a group.
By Ruby Charters and Ellie Powell
Save the Date
St Joseph's Day Monday March 20th, Evans Head
(Please pack swimming gear and lunch for the day)
Sports News
Save the Date
Cross Country Thursday 30th March, Starting at 1pm.
We welcome everyone to attend our Cross Country Afternoon, we will have a BBQ lunch followed by the races.
General Business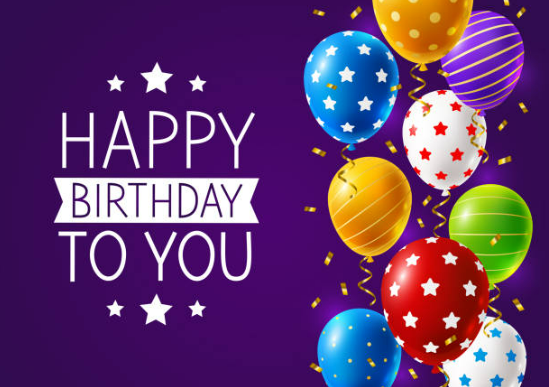 Happy Birthday to the following who have celebrated their birthday since our last newsletter:
Philippa Maher, Miss Sly, Sapphira James
P&F & Canteen News
P&F Easter Raffle
We are asking for some delicious treats to fill our Easter Hampers! Donations of Easter treats, toys or craft can be left at the front office. Raffle tickets are attached to this weeks newsletter. If you need more tickets please ask Donna.
All money and any unsold tickets need to be return by Monday 3rd April.
The Easter raffle will be drawn on the 5th April following our Easter Hat Parade.
Canteen
Thank you to those who have volunteered and assisted in getting our Canteen back up and running.
We still have a few gaps in our Term 2 roster if you are interested in volunteering please speak to Donna.
Term 1 Roster is shown below.
We are now registered to accept the NSW Back to School Vouchers. These can be redeemed for school uniforms and also school camps.
Vouchers are valid until 30 Jun 2023.
Apply for your vouchers through Service NSW.
Upcoming Term 1 Events:
Friday 17th March - Wear Green for St Patrick's Day (Gold Coin Donation)
Monday 20th March- St Joseph's Day Evans Head
Tuesday 21st March - P&F Meeting 2:30pm
Wednesday 29th March - Dental Visit Kinder/Yr 2/Yr 4
Thursday 30th March - Cross Country
Wednesday 5th April - Easter Hat Parade
Thursday 6th April - End of Term 1